トップページ > YAMAGATA introduction
Yamagata Prefecture is located on the Japan Sea side of Japan's Tohoku area. It is well known for being the largest producer of cherries in Japan, and also for four distinct and beautiful seasons.
Yamagata is surrounded by beautiful mountains such as Mt.Zao, Mt.Gassan, Mt.Choukai, Mt. Azuma, Mt.Iide, and Mt.Asahi, which are among Japan's 100 most famous mountains. From south to north, stretch the Yonezawa, Yamagata and Shinjo basins, and the Mogami river, called the "Mother River", runs though the Shonai plain.These all contribute to Yamagata's rich and beautiful countryside which is also filled with town communities, cities, villages and farms. In Yamagata, a peaceful harmony between nature and man can be seen.
Yamagata has an area of 930,000ha, making it the ninth largest prefecture in Japan. Due to the historical background of the bakuhan system of the Edo era, each province has differences in dialect, food, and culture. Yamagata Prefecture can be separated into 4 different regions – Okitama in the south, Murayama in the center, Mogami in the north and Shonai in the west.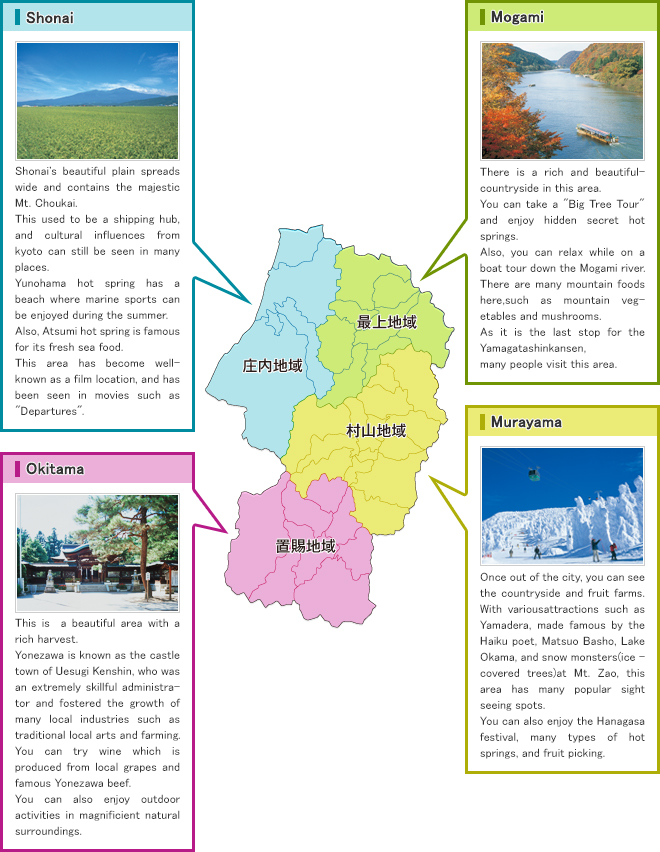 Foods
▼ Click the images to display explanatory notes.
Crafts
▼ Click the images to display explanatory notes.